About the Artist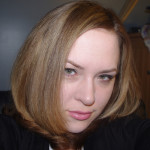 Thank you for stopping by and taking an interest in my work! I've always been very interested in people, especially their faces and features. I honestly don't enjoy painting anything that isn't living. I have done some flowers and animals in the past, but have never been able to get serious about still life. I think my fascination lies with the fact that I am not really a people person. People frustrate, mystify, anger, upset, and befuddle me. For the most part I tend to avoid relationships with people for just such reasons. Most of the people I know are acquaintances aside from my immediate family. I think portraits are my way of observing people from afar.
My interest in people really took off when I started painting different characters from my favorite movies and TV shows. I started to really connect with all of the things that had formed who I was and what I liked. It's amazing to see now that my generation is older, that a lot of those favorites come up in the mainstream. Like the movie The Labyrinth, The Neverending Story, and The Dark Crystal. In my case, I can also connect with older generations as well as new with Horror classics like Psycho and The Birds – which I happened to take an interest in when I was about 18. I find media is like a very complex form of art. I imagine that all artists affect and inspire each other even if that inspiration seems like just a rekindling of your childhood or a happier time..it's always much more than that.
I'm not just into media though, I'm also an avid gamer. I have been gaming since I can remember which was probably at about 4 or 5 years old. I started with the Atari and haven't looked back since. I stick mostly to PC now, but I still own about 90% of every console made -not counting some of the newer gen consoles. I have a Wii and a PS3, but no way was I buying an xbox360 when one of my friends complained of the red ring of death 3 times. Like seriously that's one person having to deal with it on 3 different consoles. I digress. I like video games a whole lot.
Back to my interest in classic horror, I painted portrait of Tippi Hedren once – still one of my favorite paintings – and was so shocked to actually have her respond to me about it on Twitter! There is no higher honor in my opinion than to get praise from the person the painting is actually of (and of course I had to get my fangirl on and squee about it). And she was only commenting on how it looked so far! Not even a completed painting 😀 I mean even if it was her marketing team and not actually her, it would still be cool if they at least showed it to her.


I've had other people comment on their portraits too like Kathy Kinney who played Mimi in Drew Carey. It's always so surreal to me to hear from these people, but amazingly awesome when it happens. You don't paint a portrait of someone because you want this to happen…you paint it because they inspired you to. So obviously when they like it, it's just bliss to you as the artist.

My artwork is not currently in any galleries as I haven't had the usual time allotment to get the amount of work done that's necessary to be in one. But I have been in the past. It's always a real pleasur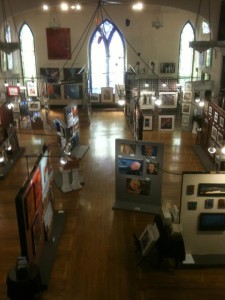 e to see your work hanging in a gallery. You can see some of paintings very small in the front panel of the picture to the right. I do find standing in a gallery and talking to people about my work a little awkward though. It's probably why I don't focus on showing my paintings in such ways (aside from the time it takes). I mean let's face it..most artists are introverts and I am no exception to that. In fact my exception is that I am more introverted than most introverts! So having to talk to strangers about my work comes very difficult for me. I found it more interesting to talk to other artists about their work while I was waiting around. And really, I don't like how you're expected to know exactly what your work means. I feel there's too much emphasis on making an artist a package to sell to clients. I don't know why I paint some of the things I do. I can surmise why, but I don't know why. And pretending to know or making up something is just lying to people. Another thing I'm not comfortable with. So enough of that..onto cooler things…
I've been featured on the front page of EBSQart.com not once, but twice which is pretty impressive considering how many amazing artists are on EBSQ to begin with!
I've also had the honor of being a part of the 7th Annual Juried Art Auction for Habitat for Humanity at Hershey Country Club and the 41st Annual Open Juried Exhib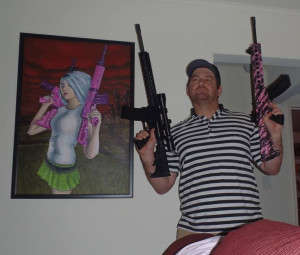 it at York Art Association.
I'm also privileged enough to have some awesome clients ;D This guy is a big supporter of mine who took a huge interest in my Beauty and the Heat series. That gun he's holding on the right is his wife's..and yes it's pink. Kind of like the painting! LOL He also has my Darkness painting from the movie Legend. I still miss that painting!